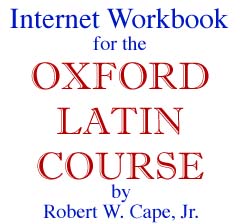 This workbook is designed to help students practice and review material associated with the Oxford Latin Course (OLC). The OLC emphasizes reading and oral question and answer as the primary ways of learning Latin, but it makes some use of formal grammar. While the thrust of this approach differs from the older grammar-based methods, students still need practice with declension and conjugation paradigms and rules of syntax. This workbook provides an easy way for students to practice the Latin forms and receive immediate feedback on their answers. The workbook may be used outside of class for extra practice, by homeschoolers using the OLC, or it may be used as part of a class in a computer lab environment. For those using other texts, or reviewing Latin grammar, use the Grammar Index.
These pages make heavy use of javascript to give you feedback about your performance. Netscape 3.02 or higher and IE Web 4.0 or higher browsers should be able to display the pages and run the javascript correctly. Make sure your browser's javascript feature is turned on. Follow this link for information about the javascripts used here and credits. I would like to thank the Charles E. Culpeper Foundation and the Telecommunications Infrastructure Fund Board (Texas) for supporting this project.
INDEX OF MATERIALS
---
---
Internet Workbook for the Oxford Latin Course © 1999-2006, Robert W. Cape, Jr.
These materials are for educational use only and may not be reproduced or distributed in another form or for profit without permission.