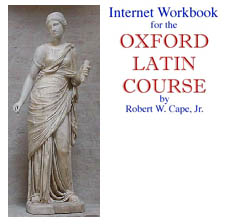 Word Power Exercises for Chapter 1
These exercises help develop English vocabulary. They are suitable for general use, but the Latin elements are based on the vocabulary in this chapter.
Other Internet Resources (not supported by this site)
Focusing on Words (a variety of exercises on the Greek and Latin roots of English.

[return to the main Workbook page] [return to the Chapter 1 index]
---
Internet Workbook for the Oxford Latin Course © 1999-2003, Robert W. Cape, Jr.
These materials are for educational use only and may not be reproduced or distributed in another form or for profit without permission.