The Opening of Perrin Field
In the spring of 1941, The Office of the Chief of the Air Corps drafted a program authorizing a tentative strength of 199 officers, 422 cadets, 1730 enlisted men, and $3,966,388.00 in construction funds. Construction began on the newly established Grayson Basic Flying School on July 1, 1941.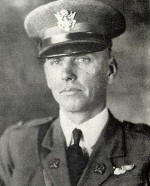 Perrin Field was the first training base to be activated by the Army Air Corps following Pearl Harbor. In January 1942, Grayson Basic Flying School was renamed Perrin Field in memory of Lt. Col. Elmer D. Perrin, a test pilot and native Texan who was killed during the test of the B-26 bomber in 1941.
"[In 1942] Fort Wolters was an established base, and Perrin Field was not. If you can visualize sleeping in a tent on the parade grounds and the drill fields and everything were just mud and grass. Out there where the golf course and stuff like there is now, that was all tents. We didn't have very many buildings. We took our basic training there. We had a ten-man tent with a little old bitty pot-bellied stove, [about 6 or 8 inches tall], trying to stay warm. On Christmas eve, they put a recorder on the back of a GI truck and slogged it through the streets out there playing Christmas carols." Loyd Upchurch (1942-1944).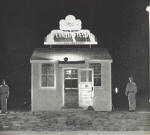 "Of course, December 7, 1941, we had Pearl Harbor day. It was Sunday, and a lot of the military out here at Perrin Field were on leave. Word got out that all military had to report to their bases. When a lot of them got back to the base, they were in civilian clothes. They made them stay outside the base until Monday morning, and then started checking them. They had a big campfire and spent the night out there the night of Pearl Harbor." Morris Guzick (1942-1946; 1948-1971)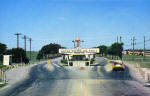 "The main gate to the field was back in the corner back of the hospital. It was just a big mud hole when it rained. In fact, I know they had a couple of farmers that had mule teams, who made quite a bit of money pulling cars out of the mud. It was really something when they opened up the new front gate. You had a paved road into the base." Morris Guzick (1941-1946; 1948-1971).
Base Layout