VCRC HOMEPAGE
CATALOGS

EDUCATION

WEB RESOURCES

SUPPORT
In Association with: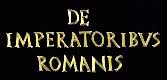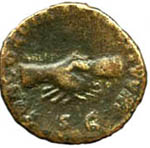 Teaching with and about Roman coins an be an exciting way to help students get in touch with a part of the everyday lives of ancient people. Roman coins are among the easiest artifacts to use in class because they combine art, religion, history, politics, and a few simple words in Latin. There is something for everyone on coins, whether it be elementary students who are learning about the Roman gods, world history students learning about imperialism, art students examining the development of portraiture, Latin students learning vocabulary for the major virtues and characteristics of good leaders, or students studying the public roles of women in ancient and modern societies. There are innumerable projects that can be constructed using images from Roman coins, but, unfortunately, few teachers have any training in ancient numismatics or experience with coins.

The VCRC was created to provide a resource for teachers and their students. The catalog is useful in itself, but one of the most important features of the VCRC is the section on education. It is split up into three parts with an access page for each: this page for teachers, a page for students, and a page list of other educational resources. This page links to files that outline most of the teaching projects, list their objectives, and provide step-by-step setup instructions. Teachers can then direct their students to the appropriate project link on the student page.
The items that follow are roughly parallel to the student projects. When there are several projects of a single type (e.g., Mystery Coins), there is usually only one page listing rationale, objectives, and setup. I have also included some more general information on teaching with coins, some of which is linked to the student page as well.
If you have developed projects or would like to work together to create a special assignment for your class(es), please email me at rcape@austincollege.edu. I would also be happy to provide links to other useful educational resources.

INDEX OF TEACHING PROJECTS: (what is not yet linked will be added in the fall of 1999)

Teaching with Roman Coins (Begin Here)

The Web Quizzes

What do Roman Coins Say about Ancient History?

Create and Color your own "Roman" Coin (elementary level project)

Mystery Coin Projects

Archaeology Coin Projects

Roman Virtues for Women and Men (Latin students)

Roman Goddesses and Gods